MONZA 2019 - HOSPITALITY BOX MONZA VIP
<< back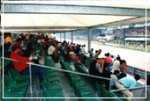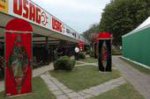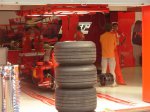 VIP HOSPITALITY BOX (UP TO 100 PAX)
The boxes are situated immediately after the starting line with the direct view of the circuit.
Each box is structured as follows:
- a tent covered private stand, with the capacity of holding 100 people.
- a walled space below (35 mq.) with hall bar and restroom
- a private garden at the back (mt 18.30 x 8), covered by a tent structure
- a common garden for the use of all guests of the boxes.
At the restaurant entrance there is assistance service and a hostess desk to welcome guests.
The minimum number of guests for one or more tables is 10. On the contrary, it is not guaranteed a reserved table.
Opening time of the Hospitality area: from 8.30 a.m. up to 5 p.m. (unless by different agreement requested by the client's specific needs).

Vision of the race
The guests will see the race from the private stand of the box. In occasion of the Grand Prix a maxi screen is positioned on the opposite side of the circuit in front of the boxes so as to get the best possible view.

Rates for saturday/sunday:
PRICE ON REQUEST
Rates include
- private stand
- daily invitation pass personalised with company logo
- catering service: daily open bar, lunch with table service
- reserved table with flower arrangement, personalised with company logo
- car parking pass (1 each 4 guest) or 1 Bus parking pass (min. 15 pax)
- sound-proof ear plugs, Official Programs

Pit walk about passes
Saturday: PRICE ON REQUEST (estimated time from 07.30am till 08.30am)
Sunday: PRICE ON REQUEST (estimated time from 07.30am till 08.30am)